CRYSTAL WAND MASSAGE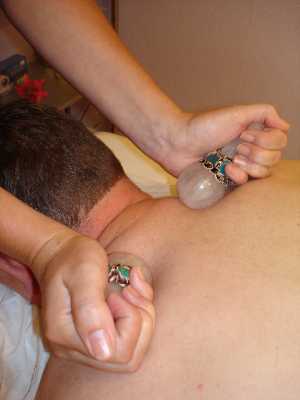 Crystal Wand Massage Therapy, or as some of our clients call it – "Magic Wand" is a truly peaceful and tranquil massage experience. Handmade Indian Crystal Wands are warmed and then implemented to relax and soothe tired muscles.
The healing properties of Crystals themselves are well documented, the warm wands are fantastic massaging instruments and it is no surprise how popular this type of massage is becoming.
Indian Crystal Wands have three functional purposes:
· The ball is used to release deep muscular tension, for instance deep tissue work in areas of congestion, breaking down cellulite and fatty deposits, softening knots and nodules, the ball is also used for any light surface massage for example on the facial areas.
· The stem is used to promote lymphatic drainage therefore assisting the removal of waste and toxins from the tissues.
· The point is used for acupressure to enable accurate and effective stimulation of the various pressure points upon the body.
During this one-day training course, we study the versatility of the wands. These can be used during facial massage, manicure and pedicure treatments or body massage, they truly are a gift for the Therapist.
Each procedure allows the Therapist to perfectly transfer the warmth and healing properties of the wands to their client. The warm wands are easy to hold, they glide over the skin and controlled pressure is applied or taken away with the greatest of ease.
Acupressure is a wonderful way of balancing the many body systems, promoting health and well-being as a corrective and therapeutic treatment.
Crystal Wand Therapy incorporates work on acupressure points, utilising our clients own body energies to help relieve stress, loosen muscle tissue, release toxins, soothe aching joints and boost the immune system.
The stem and ball of each individual wand are made from the same type of crystal, the three types of crystal we use are clear quartz, amethyst and rose quartz.
The healing powers, spirituality, energy and beneficial effects of each individual wand ensure clients come back time and again for their "Magic Wands".